Woman-Owned, DBE & ESB Certified
Sign Language is a woman-owned and operated company, founded in 1998 by Lisa with her husband John.
Certified WBE, DBE & ESB Small Business:
Sign Language is certified as a Woman-Owned Business (WBE), and also Disadvantaged Business Enterprise (DBE) and Emerging Small Business (ESB) by Oregon Department of Minority Women Emerging Small Business.  Sign Language is also a Small Business Concern as defined by the Small Business Administration.  By using Sign Language, General Contractors can increase their WBE, DBE and ESB participation on projects, and know that they are helping stimulate the local economy.
OMWESB #4512.
Licensed, Bonded and Insured:
Sign Language is fully Licensed, Bonded and Insured.
Local/Family-operated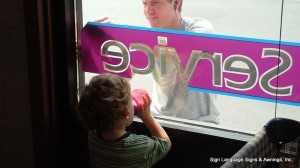 Local:
Sign Language is owned and operated in Eugene, Oregon. We source materials as much as possible from other local companies.
Family:
The whole family has been involved in the business.
As a baby, our son spent many hours nursing, playing and sleeping in the front office or riding in a backpack on installations.
As an young child he has built incredible contraptions in our front office out of building blocks, Legos and K'Nex (also string, cardboard, safety cones and anything else he can find in the shop!).
Shop-Dog:
In 2009 we lost our longtime companion, official-greeter, and shop-dog.
For ten years he faithfully came to work every day.  He never took a sick day, and was came to work every day that Lisa was there.  His duties included welcoming visitors to Sign Language, riding along on installs and making sure that Lisa took a break from the computer once and a while.  He took his job of official-greeter seriously, and loved welcoming visitors to Sign Language.  He would would even climb into your lap if you'd let him!
Shop-Dog in Training:
Please stop by to meet our new shop-dog!  She has been with our family since 2011, but due to intense car-sickness, she is new to the job of shop-dog.  She is still learning her duties, and currently thinks her job consist of sleeping, "walkies" and of course, looking beautiful.
Environmental Ethics
Commitment to sustainability and reduced energy use:
Sign Language employs sustainable packaging and production strategies, which minimize transportation distance. Sign Language has made company-wide efforts to reduce carbon emissions, including using recycled products when available, purchasing wind generated electricity, and encouraging employee carpooling.
Wind Power:
Sign Language has been a supporter of EWEB's  Windpower (now Greenpower) since the program began.
Recycling:
We recycle all materials that are currently recyclable in the area, and purchase recycled products including paper products and reconditioned toner cartridges.
Reduction of Paper Use:
We make an effort to reduce the use of paper whenever possible.  This includes sending illustrations and documents via email rather than printing.  Reuse of single-sided sheets of paper, and deciding whether a paper copy of a file is really needed before hitting "print".
Composting:
Food wastes generated at Sign Language routinely go home with the owners to feed their vermicompost (worm bin).
Recycled Sign Materials:
Sign Language offers recyclable CAB (Cellulose Acetate Butyrate) formed plastic letters. Made from 55-65% pre-consumer content.  CAB is a renewable resource and non-petroleum plastic.
Our aluminum and steel signs are made with recycled materials.  Our aluminum extrusion contains 80% recycled content (20% consumer & 60% industrial).
We can also provide dimensional letter signs made from a variety of recycled materials.  Contact us to discuss options.
Signs Built to Last:
Sign Language designs and builds signs to last.  The longer signs remain looking great and in-use, the fewer signs end up in the waste stream.  Metal and plastics are frequently the best materials for the job.  We also offer high quality automotive urethane paint, powder-coating, and porcelain enamel finishes for long-lasting, durable finishes.
LEED:
We source many of our materials from companies with high environmental standards.  LEED certification credits are available.
Buy America:
We have completed numerous large projects meeting the detailed sourcing requirements of the Buy America program.
Reduced Power Consumption using LED Lighting:
We have made the switch from neon to LED lighting in all of our closed faced channel letter signs.  These signs are illuminated using low voltage LED (light emitting diode) lighting, which have much lower power consumptions than neon or florescent tubes.  LEDs also contain no mercury, and produce a bright even lighting that customers love.
Proper Disposal of Fluorescent and Neon Tubes:
Fluorescent and neon tubes contain heavy metals, such as the highly toxic mercury. We dispose of old tubes using the Hazardous Waste Management Facilities in Eugene, instead of the common practice among sign-makers of breaking the tubes and throwing them in the trash!  We encourage everyone to take proper care in the disposal of old signs and lighting.
Donation of Used Equipment and Materials:
When we are no longer able to use equipment or materials we donate as many of them as possible to local organizations that accept materials for repair, reuse or recycling, such as Habitat for Humanity's ReStore, NextStep, MECCA, St. Vincent de Paul, and Bring Recycling.
Recycle or Reuse of Packing Materials:
Sign Language has donated over three hundred cubic feet of clean packing materials for reuse to local companies.  All packing materials that come into us are either recycled or donated for reuse.
Reuse of Sign Materials:
At the request of clients, in some situations we have been able to reuse sign materials and refurbish existing signs, thereby reducing the need for new materials, and keeping the existing sign out of the landfill.  Contact us to discuss refurbishing your existing sign.
Commitment to Quality, Innovation and Creativity
Quality:
Sign Language has earned an outstanding reputation for successful projects and satisfied customers. Our record is without claims, litigation, safety violations or citations. Sign Language delivers signage on schedule and within or above the quality standards specified.  We always use quality materials and design signs to last.
Innovation:
We will listen attentively to your needs and goals or that of the owner and design staff, and offer our expertise in creating custom signs that do more than simply meet your needs.  We have shown our commitment to working with clients and their design teams on continuous improvements to fabrication details in order to head off future difficulties.
Creativity:
We have designed many original signs and logos for our clients.  Come see what we can do for you.
Having extensive, similar, and successful signage experience, Sign Language is fully qualified to provide custom signage for your next project. With a detailed understanding of construction techniques and potential difficulties of producing the custom signage, Sign Language can begin work immediately with an experienced staff and a well versed group of suppliers to deliver top quality signage on time and on budget.
We try to make working with Sign Language as easy and pleasant as possible!  Please see Working with Sign Language for an overview of our process.
Home >  About Us